●●
Treatment Applications
● E-light/permanent hair removal,pigmentations treatment(Spots removal,smallpox removal,freckle removal),Skin rejuvenation(tighten skin,fine wrinkles removal,whiten skin),Acne Treatment,Vascular Therapy
● Unipolar RF/wrinkles removal,tighten skin,lift skin,rebuild face outlines and body contours,contract large pores
● Nd:YAG laser/all colors of tattoo removal,spots removal(freckle,coffee spots,age spots,nevus of Ota),embroidery lipline,eyeline,eyebrow pigments removal.
A: E Light Handle: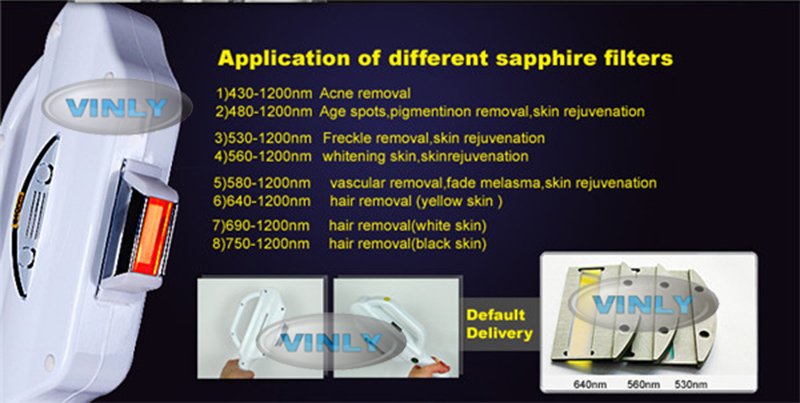 B: Laser handles: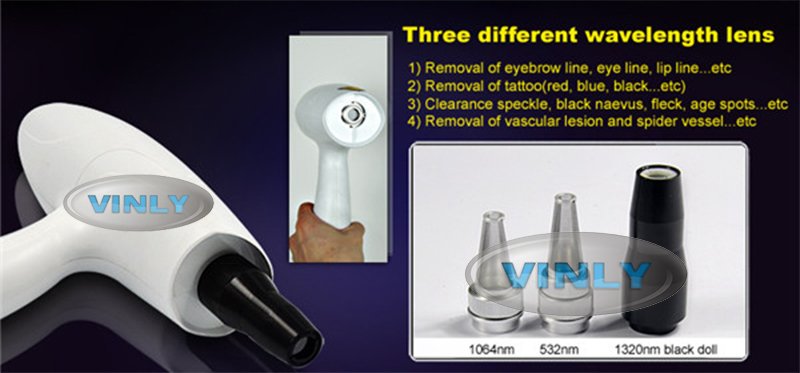 C: RF Handle: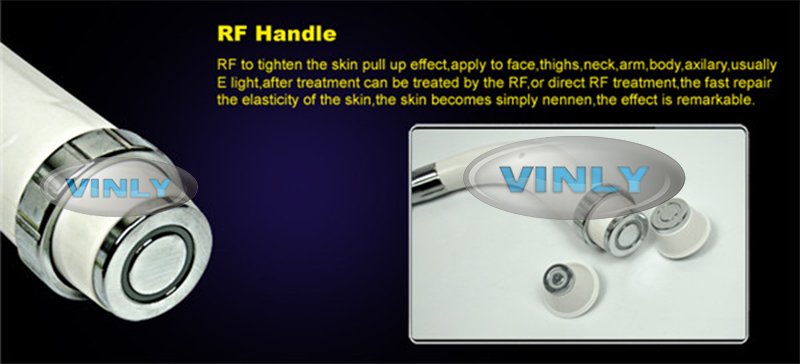 ● Multi-purpose,functional complementary,widely application,marvelous treatment effect
● 8.0 inch big Color Touch LCD screen,humanized menu, easy operation
● The shell is made of the ABS environmental material and beautiful design.
● The cooling temperature -2~0 °C,treatment more comfortable and safe
● Water level, water flow and water automatic detection greatly increasing machine's life; expectancy and safety;
● Long continuous work time, stable function, shot period of treatment.
● 6 Multilingual languages,anywhere in the world can be easily grasped.
● With two operation molde,easy mode for new user,professional mode.
| | |
| --- | --- |
| E-light: | IPL+Bipolar RF+ Water cycle refrigeration |
| Energy density: | 10-50J/cm2 (IPL) 10-50J/m2 (RF) |
| Elight Spot size: | 15*50mm2 |
| E light power: | 1800W |
| Discharge Interval: | 1s,2s,3s,4s(variable) |
| E light Probe Tempreture: | -2°C~0°C |
| Pulse Number: | 1-10 1-200ms |
| pulse width: | 1-200ms |
| Pulse space: | 1-600ms |
| Wavelength: | 640/530/480(Standard), 480-1200nm(Option) |
| RF handle size: | Diameter of handpiece : 43mm/30mm//15mm |
| RF Frequency: | 10Mhz |
| RF power: | 1-20J/cm3 |
| RF delay: | 50-2500ms |
| RF Probe Tempreture: | -2°C~0°C |
| Laser Power: | Q switch nd yag laser 500000shots |
| Frequency: | 1-6HZ |
| Energy: | 1-1200MJ |
| Laser: | 1064nm,532nm,BDLS |
| Water Alarm: | Yes |
| Temperature Alarm: | Yes |
| Kinds Of Screen: | LCD digital touch screen 8.0inch |
| Cooling system: | semiconductor+ intelligent cooling + water+ wind + gel |
| Voltage: | 110V-130V ,60HZ/ 220V-240V,50 HZ |
| Size Of Machine: | 50cm*53cm*118cm |
| Weight Of Machine: | 40kg |